dA icon by-



Hi there, you can call me Yoz or Chii. I'm an MMD and UTAU user mostly, I also write sometimes.

I co-run a points donation accout with NIPPONkidd:



And I run the group



If you check either of them out it would help a lot and I would greatly appreciate it. If you have any questions about anything or you just wanna talk you can note me anytime.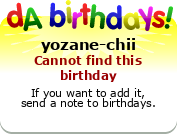 I'm an UTAU/Vocaloid fan and proud!!

╔╗╔╦══════════════╦╗
║║║╠══╦═╦══╦╦══╦╦═╝║
║║║║╔╗║╔╣╔╗║║╔╗╠╣╔╗║
║╚╝║╚╝║╚╣╚╝║║╚╝║║╚╝║
╚══╩══╩═╩╩╩╩╩══╩╩══╝

╔╗╔╦══╦══╦╗╔╗
║║║╠╦╦╣╔╗║║║║
║║║║║║║╚╝║║║║
║╚╝║║║║╔╗║╚╝║
╚══╝╚╝╚╝╚╩══╝


Hacked by the fabulous NIPPONkidd